Adoption Process
At Moss Creek Goldendoodles, our selection process may be the thing of which we are most proud. We match families with the puppy that we feel will be the best fit for them.

From the time you fill out your puppy application to when you take your puppy home, we are with you every step of the way.

After your puppy goes home, we provide a variety of resources for you to keep in touch, including our Owners Facebook Page.

We invite all of our puppy owners to our Annual Doodle Romp each year, and of course we are always available to answer questions along the way.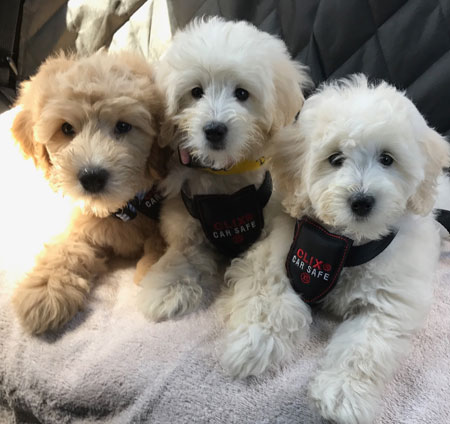 Reserving a Moss Creek Goldendoodle Puppy
Puppy Application
The first step in securing one of our Goldendoodle puppies is to fill out our Puppy Application. To assist you in filling out the application, we recommend browsing through the "Our Puppies" section of our website to understand the Goldendoodle breed in general, and the different colors, generations, and sizes of puppies we offer. Be sure to check out the McDifference page to see what sets us apart.
Phone Interview
Upon receipt of your application, we will call you to discuss your preferences and our upcoming litters. We do our best to give you an approximate timeframe. We talk about your needs as far as temperament, look, and any allergies in-depth so that we have an idea how to steer you in the right direction when it comes to selecting a puppy. We take notes during this interview so that we have them to refer back to throughout the process.
Non-refundable Deposit
When your application is approved, we ask for a $250.00 non-refundable deposit to secure your place on our waiting list. Deposits can be made on our Pricing and Deposits page. The balance is due when your puppy is 4 weeks old. It is not our policy to refund deposits.
Waiting List
After your deposit is received, you are placed on our waiting list. As litters are born, we contact the next families on the list that match the litter preferences. If the timing does not work for you or you cannot take a puppy from this litter, your name goes back on the top of the list, and you will be contacted for the next (or future) litter.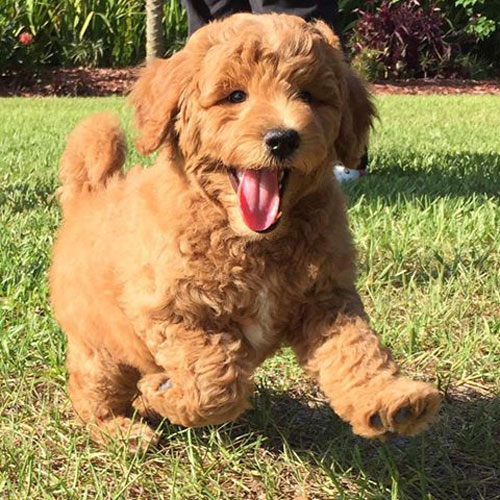 After the Puppies are Born
Puppy Collars
The first thing we do after the puppies are born is to place a collar on them. The puppies wear different color collars, and this is how we track their weights two times a day, how our Vet keeps track of them and how you can track them from week to week in the pictures.
Puppy Announcement and Weekly Updates
After the puppies are born, we send a birth announcement via email to each family on the list with the litter specifics and pictures. We send pictures and updates every week, so you can watch them grow.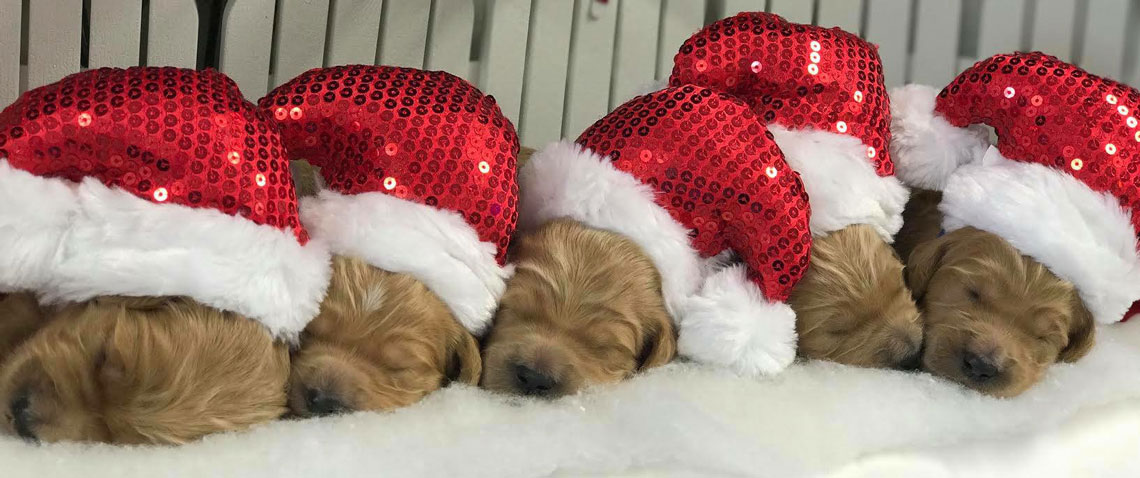 Matching Puppies with Families
Matching puppies with families is an integral part of our process, and we feel is one of the most significant things that sets us apart. Many breeders allow families to select their puppy in order of deposit, but we feel that we are serving each family and each puppy much better by selecting based on "best fit." It takes a lot of trust from our families, but we are really proud of the work that we've done and have 15 years of success stories.
Choose Your Favorites
The first step in our selection process is to get your opinion based purely on the look of the puppies. After we send the 6-week pictures, we ask everyone on the list for their favorites, based solely on the look of the puppies.
Temperament Testing
At the same 6-week mark, the puppies are Temperament Tested by a trainer using the Volhard Puppy Aptitude test. This test uses a scoring system and consists of ten individual tests. Each test is scored separately, and interpreted on its own merits. The scores are not averaged, and there are no winners or losers. The entire purpose is to select the right puppy for the right home. For more information on this test, visit the volhard.com website.
Our Recommendation
Using the results of the Volhard Test, along with your puppy application, phone interview, and your favorites, we match you with the puppy that we feel is the best fit for your family and lifestyle.
Your New Family Member!
Once the testing is complete, we call everyone on the waiting list to go over their scores and discuss our recommendation of which of your favorites we think is the best fit. After this conversation, you have a puppy to call your own!
Visiting Your New Puppy
After the selection process is complete, you are welcome to visit your new puppy. The puppies are 6 weeks old by this time, and will have had their first set of vaccinations.
When visiting your puppy, we request that you do not visit any other kennels, pet stores, breeders, or places where there could be unvaccinated dogs during the same day. We will ask that you take your shoes off at the door and use hand sanitizer. We will also ask that all kids sit on the floor when holding and playing with the puppies.
Taking Home Your Puppy
At eight weeks, you will be invited to take your puppy home. We will assign a time for your pickup so that we can spend some uninterupted time with you going over things we think you should know and answering any questions you may have.
The drive home
When you pick up your puppy, we recommend bringing someone with you who can hold the puppy on their lap for the drive home. Your puppy will be unfamiliar in his new surroundings, and without his siblings. Holding the puppy on your lap on an old bath towel will keep your puppy feeling safe and happy and start him off in the best possible way to his new life.
Avoid High Traffic Areas
On the way home, please remember that your puppy is vulnerable because he has not yet completed his vaccines. Avoid stopping at "high traffic" dog areas, like rest stops, on your journey home. Instead try stopping at restaurants, where people with dogs in the car are less likely to stop. By avoiding areas where other dogs have been walked, you greatly reduce the chances of your puppy picking up any germs left behind.
If you have to stop at a rest area, please carry your puppy to a more secluded spot, and you might even want to put your puppy on a puppy pad rather than on the grass - or for the most secure solution, simply put them in a crate lined with a puppy pad. In general, your puppy should be able to make at least a two hour trip without stopping.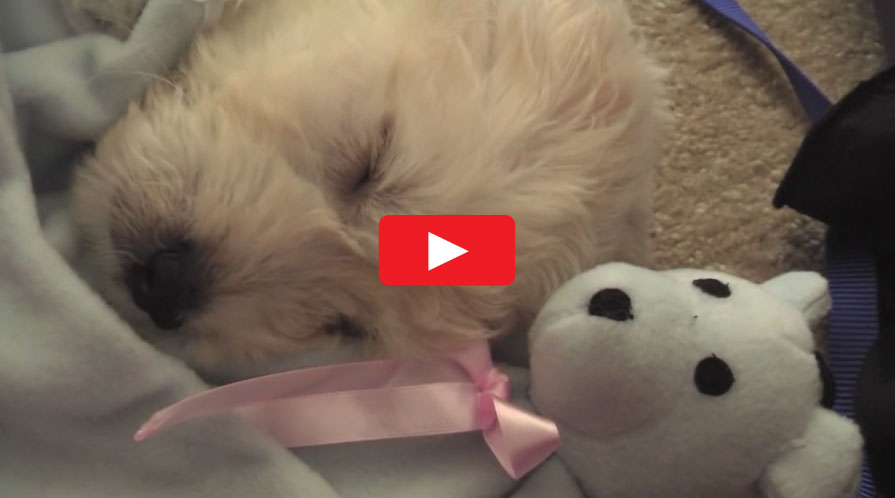 Visiting the Vet
When you go to your Vet, carry your puppy in and place it on the table; don't let it walk across the floor where a sick dog could have been. Until your puppy has had its last set of puppy vaccines, 16 weeks, you need to treat it like it has no immune system and avoid high risk situations such as parks and pet stores.
Preparing for Your New Puppy
Shopping Essentials
Before your puppy comes home, we recommend that you purchase several items. We've created a shopping list that we think is a great start. Please also check out our "Shop" section of our website for recommendations on Food, Vitamins, Crates, Books, Logo Merchandise and other great products assembled by Moss Creek puppy owners Chomp Products.
Puppy Care
Bringing a new puppy home can be a daunting task if you're not prepared. Please read through our "Puppy Care" section for General Puppy Care, Grooming Tips and Water Safety.
Training
If you're looking for external board and train assistance, our McDoodle Boot Camp, developed exclusively for 8-week old Moss Creek Goldendoodle puppies, may be perfect.
We've also included some basic training tips on our website, including Crate Training and developmental stages to help you every step of the way.
Many of our puppies go on to become service and therapy dogs. Visit our Service and Therapy page to find out more information. We will work with you to select a puppy that is suitable for this, if that is your intent.
Other Resources
Moss Creek Doodle Owner Facebook Group
Our Moss Creek family of Doodle Owners are also a great resource for sharing experiences of all varieties. After you've purchased your puppy, you will be invited to join our Facebook Group of Moss Creek Doodle Owners.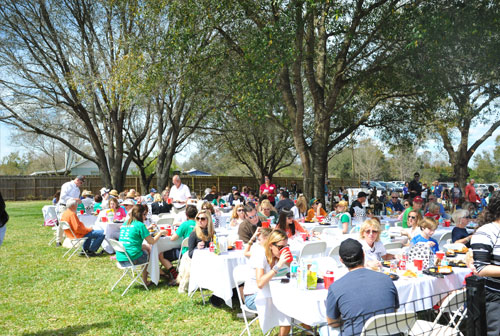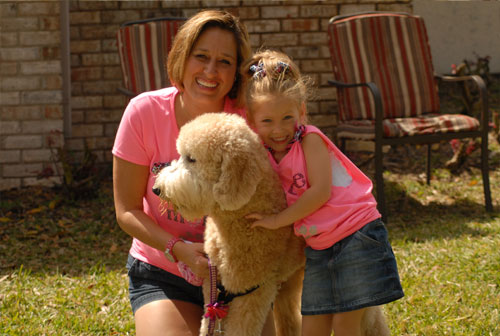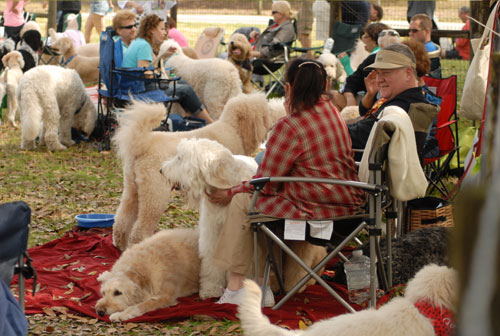 Moss Creek Annual Doodle Romp
Every year, we hold our Annual Moss Creek Owner Doodle Romp. Moss Creek Doodles and their owners come from all over the country to attend, and a good time is had by all at our Friday night "Yappy Hour" and Saturday aftenoon "Doodle Romp". Check out our Doodle Romp page for more information.