The McDifference
At Moss Creek Goldendoodles we understand the excitement and stress of bringing a new puppy into your home and family. We try to relieve some of that burden by providing additional services you won't find elsewhere.

The following are examples of the value associated with purchasing a Moss Creek Goldendoodle puppy.

Watch our video of a family taking home their new puppy and see the McDifference in action!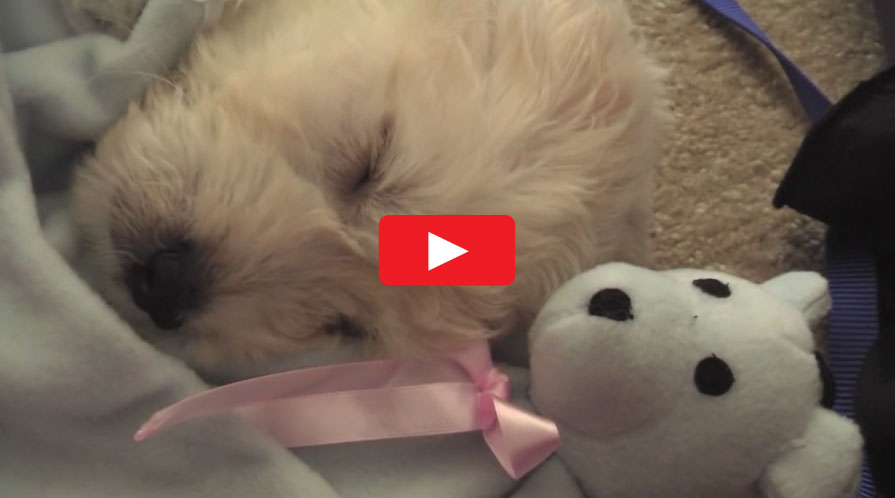 Experience and Reputation
Moss Creek Goldendoodles was the first to breed English F1B Goldendoodles in the US and to our knowledge, the world. Our first Goldendoodle who is now 9 was from the very first litter of English F1 Goldendoodles ever bred. For 9+ years Goldendoodles have been our passion. At least once a week someone tells me they can pick a Moss Creek Goldendoodle out in a sea of Goldendoodles or they stop traffic to ask a family where they got their dog. Our Goldendoodles have a very distinct look to them and they have amazing temperaments. This comes from 9 years of hands on experience and having a close relationship with a Veterinarian, Trainer and Animal Behaviorist.
Healthy Parents
Here at Moss Creek Goldendoodles, we have very carefully selected our puppy Parents from the highest quality lines with years of good health history behind them. Many of our Goldendoodles are from English Golden Retrievers. We love the English Golden Retriever because of the extremely laid-back temperament, blocky heads and short stocky bodies they bring to our Goldendoodles. We import our English Golden Retrievers from the top show kennels in the Netherlands, Romania and Canada. You can tell how fabulous they are by our English Goldendoodle puppies. Our Parents are tested for Hip Dysplasia with OFA and/or PennHip and certified clear before they're bred. Our parent dogs are also tested for von Willebrand's disease, elbows, heart and eye problems. We offer a full two-year health guarantee on all of our puppies and a lifetime of support and re-home if needed.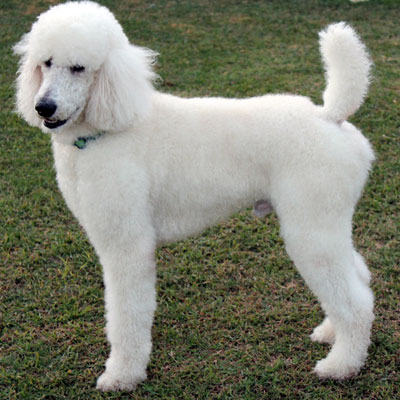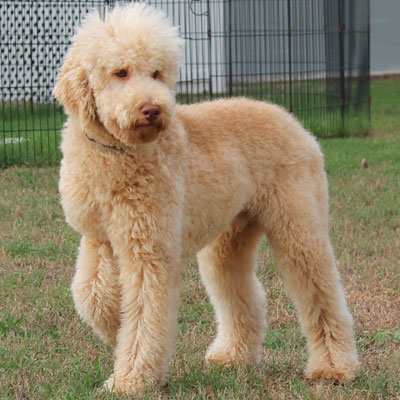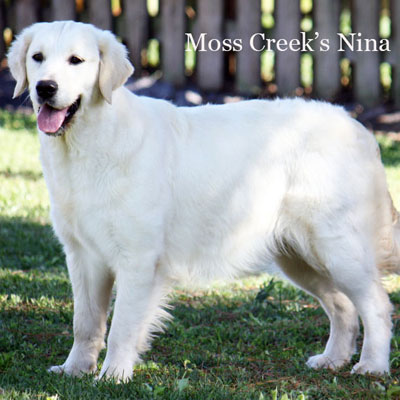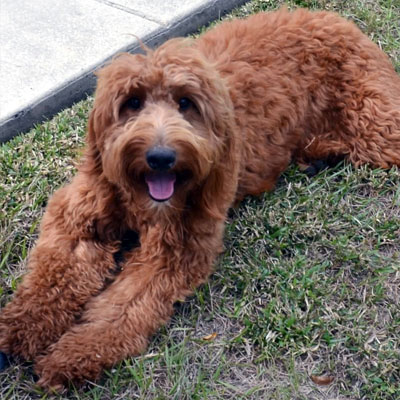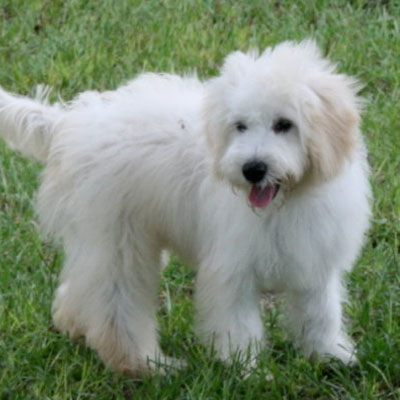 Early Neurological Stimulation (ENS) & Scent Imprinting to Odor:
Moss Creek Goldendoodles are high achievers. We practice the Early Neurological Stimulation daily on all our puppies. The U.S. Military in their canine program developed a method that still serves as a guide to what works. In an effort to improve the performance of dogs used for military purposes, a program called "Bio Sensor" was developed. Later, it became known to the public as the "Super Dog" Program. Based on years of research, the military learned that early neurological stimulation exercises could have important and lasting effects. Their studies confirmed that there are specific time periods early in life when neurological stimulation has optimum results. We have put together a unique program for our Moss Creek puppies that is like no other. Our focus is to to produce healthy therapy, service and companion dog temperaments that are well adjusted, properly socialized, sweet, loving Goldendoodle puppies with low-non shedding - allergy-friendly coats.
Guardian Homes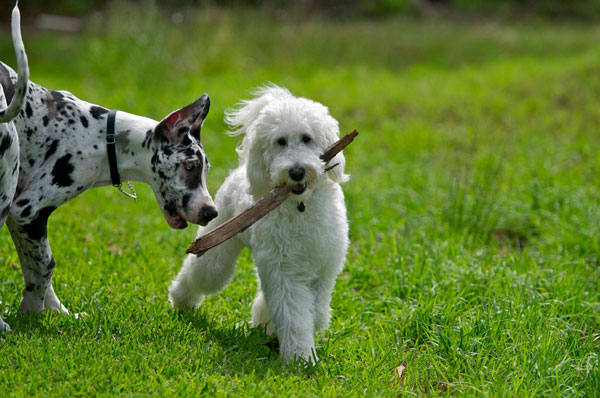 Not all the dogs in our breeding program live here at Moss Creek. Many of the McDoodles Parents live in "Guardian Homes." We place some of our breeding dogs with Guardian families at 8 weeks of age. We retain full ownership. The Dogs live with the Guardian Families as their pets. After the dog passes all the genetic testing - the dogs come to Moss Creek to be bred and then again 2 weeks before the puppies are due. The Mom's stay here at Moss Creek through the delivery and until the puppies go home. We feel this is a win win situation for us, the dogs, the Guardian Families and our puppies. The dogs are in a home environment and not a kennel. They are also in their forever home. We breed them 4 times over the next 4 years and then they are spayed.
Personalized Customer Service
We understand that bringing a new puppy into your family is a huge decision. We look forward to working with you to find just the right doodle. Any questions you may have will be answered via email or phone call promptly. Read what our puppy owners have to say about their Moss Creek puppy on our testimonials page.
The McDoodles Forum & McDoodles Facebook group
The forum and our Facebook group was set up for our puppy owners to stay in touch with each other. When I started it I didn't know if anyone would want to participate. Little did I know it would turn into what it is today. It has grown into a wonderful community of Goldendoodle lovers. It is here you can ask for training tips, organize doodle romps in your area, and share pictures and stories with other Goldendoodle lovers. Many of our puppies get to romp with their littermates on a regular basis. The forum has also been an amazing resource of information on our puppies after they go home. Having the feed back - over 10 years now - from our puppy owners has helped our breeding strategies in so many ways. When you purchase a Moss Creek puppy, it's not over after you pick up your puppy. We hope you stay in touch and become a part of the McDoodles community. You're guaranteed to make some wonderful friends and have a lot of fun along the way.
Weekly pictures
We take hundreds of pictures of each litter. We take pictures of our puppies at birth and every week until they go home. We put collars on our puppies at birth - they all wear different color collars so you can watch them grow from week to week. We feel this bonds our new puppy owners to their puppy before he/she goes home.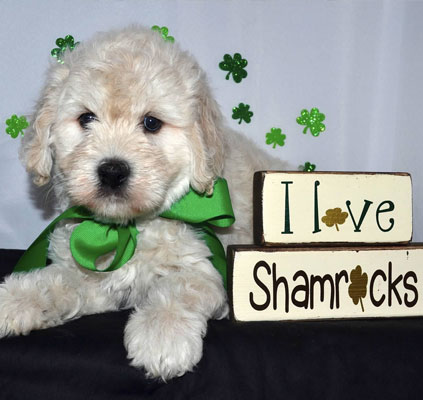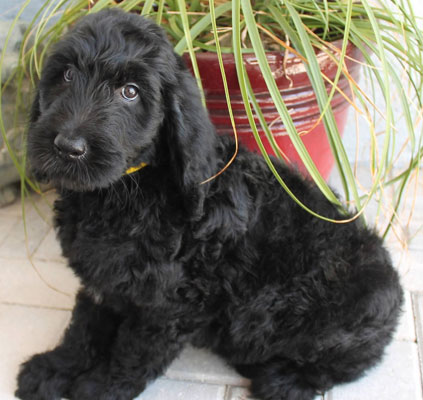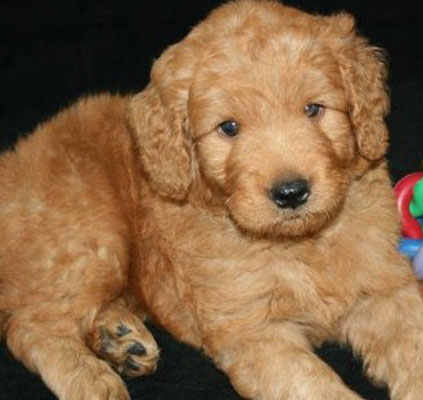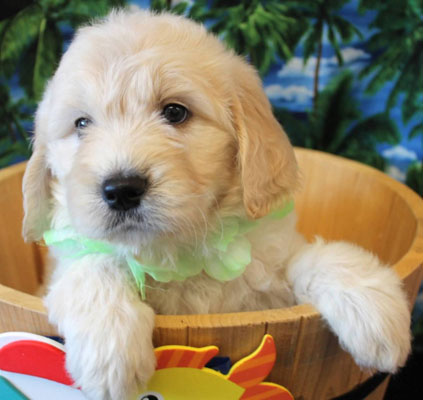 Temperament testing
Since your new puppy will be a friend/family member for life, our goal is to match you with the right puppy. Our puppies are temperament tested at 6 weeks old using the Volhard Puppy Aptitude Test. This along with your puppy application, phone interview, emails and pictures, helps us match the perfect puppy with your family and lifestyle. Just like in humans, puppies have different personalities. It is crucial to have this testing and observation of the puppies from the minute they are born helping you pick your next family member. One thing you will hear over and over again from our puppy owners is we picked the perfect puppy for their family.
Crate Training
Teaching a puppy to sleep in the crate and not soil it, is an intensive and exhaustive task. We do more than just introduce your puppy to a crate. We actually train your puppy to sleep in its own crate through the night. The early days of this process are the most difficult. We have implemented a system that slowly teaches your puppy to enjoy being in the crate without soiling it. This makes for many sleepless nights on our part. We feel this early head start to crate training makes the transition to your home less stressful for the puppy and you! Most of our puppies go home able to sleep comfortably in their crates at night, for a period of six hours without accidents.
Microchip
Moss Creek Goldendoodles are Microchipped by our Vet at 8 weeks. The AKC Microchip service works 24 hours a day, 7 days a week, every day of the year to facilitate the recovery of lost pets. New puppy owners can enroll their pet's AKC microchip identification number with the Recovery Service online or by mailing back the enrollment form included in your puppy kit - Your pet's ticket home! The puppy goes home with the pre-paid Microchip Application for the owners to register.
Vaccinations
Our puppies are vaccinated at 6 and 8 weeks old by our Veterinarian. At 8 weeks they also receive their first Kennel Cough Vaccine. The puppies are wormed - as a preventative at 3, 6 and 8 weeks. Our puppies are checked by our Veterinarian several times and go home with a signed Health Certificate and shot record stating they are in excellent health and free of parasites.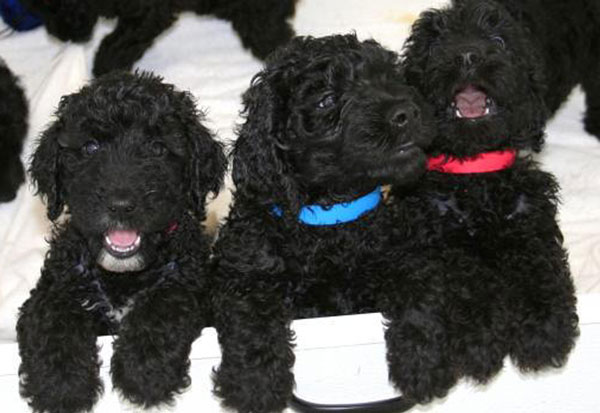 Puppy kit
All Moss Creek Puppies go home with a nice collar, leash, Life's Abundance food, NuVet vitamins, toys, blanket that smells like Mom, signed copy of our 2-year Health Guarantee and Contract, Health Certificate signed by our Vet, shot record, detailed instructions to continue what we've started with crate training and feeding schedules. Most importantly, lifetime support and re-home if needed. We are always available to assist you long after your puppy leaves our home.
After the Puppy Goes Home
We offer many avenues for you to utilize in the training of your new puppy. Our forum is a great place to meet other Moss Creek Goldendoodle owners and ask questions as they arise.
McDoodles Boot Camp for Puppies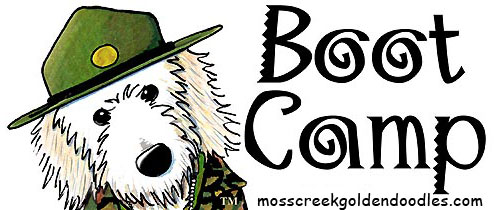 For the families that are interested in obtaining a fully trained puppy, we offer a training program called McDoodles Boot Camp for Puppies. Our puppy trainers will potty-train your puppy, socialize it and teach basic commands - sit, down, wait, come, no bite, leave it, and off. McDoodles Boot Camp will get your puppy accustomed to a daily crating routine that matches your schedule and teach basic manners such as waiting patiently for meals, sitting for attention and learning not to jump or bark rudely. McDoodles Boot Camp is an exclusive service offered to Moss Creek Goldendoodle owners only. If you would like to reserve space for your puppy in our program, please indicate this on the puppy application form or during your phone interview. Learn more about our Boot Camp Training Program!