Grooming Tools and Tips
In general, if you want to keep your Goldendoodle's coat carefree, you will need to groom your Goldendoodle about once every 8 weeks. We've put together a list of videos, articles, and tools for grooming to help you get started!
Step-by-step Grooming Videos
Want to groom your own Goldendoodle? View the videos below to see Ann Hereford groom Sully and give step by step instructions.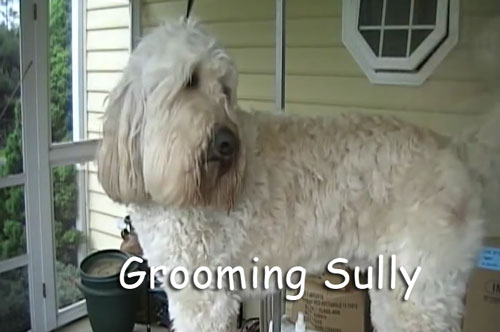 Grooming Blogs and Articles
We've found a number of good Blogs and Articles on Grooming Goldendoodles over the years. We've listed some of our favorites here.
Grooming the Goldendoodlea Groomer's Blog (BBird's GroomBlog)
How to Groom a Goldendoodle (goldendoodles.com)
Basic Maintenance and Grooming (goldendoodles.com)
List of Groomers by State (goldendoodles.com)
List of Grooming Tools (goldendoodles.com)
Grooming Products We Recommend
We use and recommend these grooming products. We also sell them in our Moss Creek Chomp! Store. Buy them individually, or buy our convenient Grooming Package.
Shop Grooming Tools